Skip to Content
Premium Shampoo and Blow Dry Dog Services
Your dog deserves All Star Grooming 's premium shampoo and blow dry grooming services in Cheyenne, WY. Think of it as taking them to a blow dry bar complete with dog treats. We'll bathe them in our premium, hypo-allergenic, all-natural oatmeal shampoo and conditioner to make their hair shiny and gorgeous. After a relaxing bath, they get to extend the royal treatment with a warm blow dry session. We'll brush their hair and make sure there aren't any mats to weigh them down. Our shampoo and blow dry services start at $12 for small dogs under ten pounds and start at $25 for large dogs under 80 pounds. Contact us for specific breed and size pricing. We look forward to giving your pup the royal treatment!

Benefits of Our All-Natural Shampoo Services
We only use the best dog shampoo on our pets. There are many benefits to specialized dog shampoo, including:
No Harsh Detergents
Human shampoo often includes detergents that can damage your dog's coat and irritate their skin.
Hypoallergenic and Anti-itch
Our shampoo helps soothe your dog's skin, keeping away allergens.
Kills Fleas and Ticks
We offer shampoos that battle fleas and ticks or even the unexpected spray by a skunk
All Natural
Our all-natural shampoo ensures your dog isn't getting slathered in chemicals and other random ingredients.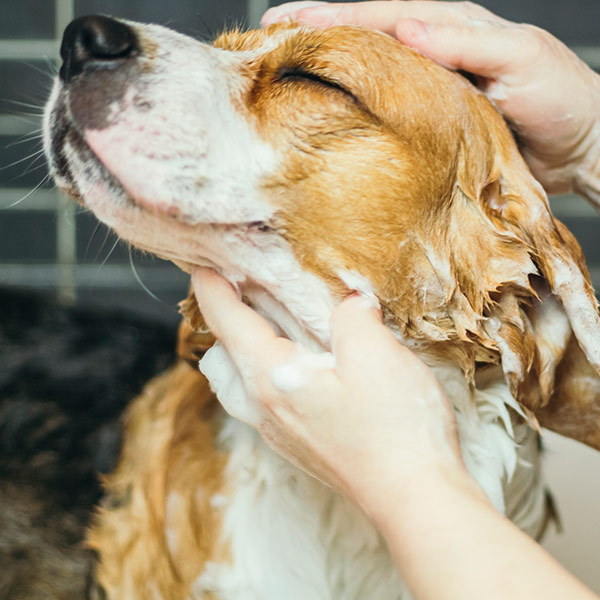 Offering a Healthy, Smooth Coat
A fresh shampoo and blow dry will give your dog a new look and feel. The condition of a dog's coat and skin are usually good indicators of their overall health. A healthy coat is smooth and shiny without a brittle or coarse feel. Their skin should be clean without grease or flakes. Regular shampoo treatments will help your dog's coat stay clean and free of tangles. We'll help them feel as good as new. They'll also leave us smelling amazing.
Contact Us for Your Dog Grooming Needs