Skip to Content
Pup Pup Hooray! How to Have the Perfect Backyard for Your Furry Friend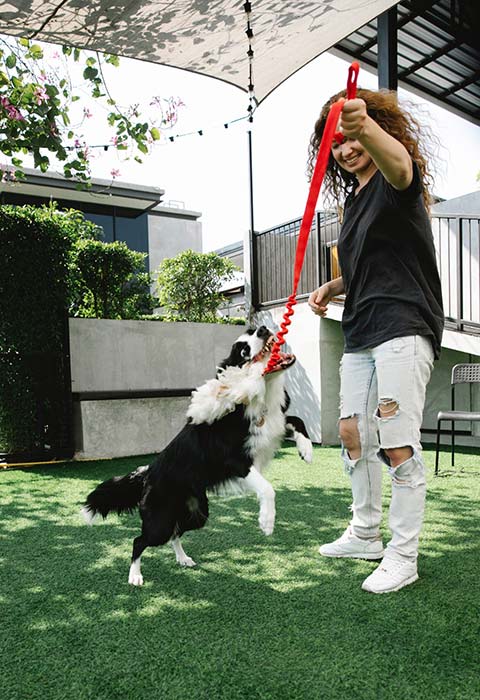 As proud dog owners, we all know how much dogs love being outside. We try to give them a plethora of options to get their fresh air and exercise, including walks, hikes, and trips to the dog park, but sometimes all they want to do is play out in their backyard! Sure, a grassy area is great for them to run around in and do their business, but here are some other fabulous things to include in your outdoor space to create the perfect environment your furry best friend has ever experienced!
Fence It Up
A fence is an essential part of any outdoor space your dog will spend time in. By adding in a fence, it will allow your dog the freedom to run around without giving you the stress that they could escape. There are plenty of options to choose from, including invisible fences, smaller fences for specific areas, picket fences, or wood fences!
Dog-Friendly Ground Covers
We all know what happens after a couple of weeks' worth of dog pee on your lawn. Avoid brown spots and dead grass by choosing another dog-friendly ground cover alternative. If you have a green lawn and are looking to stick with that look, consider checking out clover, synthetic grass, or a more durable lawn blend! All three are dog-friendly and ensure you won't have to deal with those pesky stains and dead grass. If you are leaning more towards a non-grass landscape, try mulch or stones.
Dog-Safe Plants and Veggies
We all love having plants and veggies in our outdoor spaces, but when you have pets it is important to take caution of what is safe for them and what could make them sick. We've researched so you don't have to. Consider choosing from some of these dog-safe options; Cilantro, Snapdragons, Marigolds, or Sunflowers!
Shade Shade Shade
Shade is extremely important for your pooch when playing outdoors. Just like us humans, dogs need shade, especially to cool down in after a riveting game of fetch. Look into putting up an umbrella, or buying a little dog house that they can cool down in!
Accessories
Of course, no backyard is complete without accessories and toys! Have on hand a big water bowl for outdoor hydration, as well as a food bowl if your dog likes to have its meals outside! Along with water bowls, have some of your dog's favorite "outdoor" toys ready for play as well! Some balls, dirty chew toys, and other things that keep them occupied are essential for playtime outside.
We hope you find these tips helpful when creating the perfect outdoor space for your furry best friend. Grab a book, your sunglasses, and your favorite beverage or snack, and enjoy your yard with your dog!
Contact Us for Your Dog Grooming Needs