Skip to Content
The Pawfect Hiking Trails to Take Your Pup On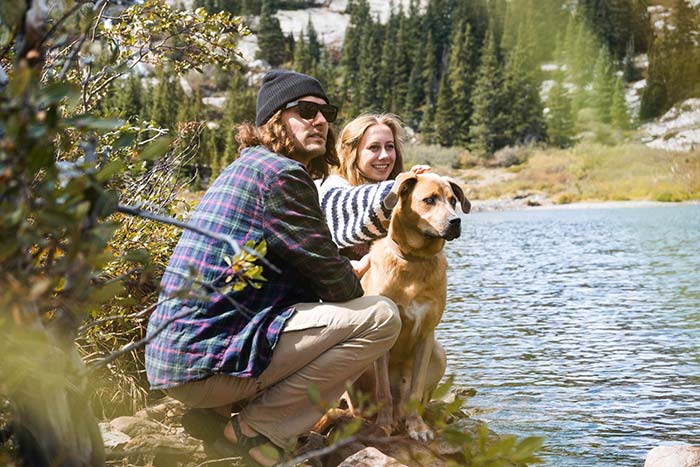 Happy summer folks! As the weather begins to warm up, and the flowers and greenery are blooming, we are all itching to wander into nature and spend some quality time outdoors! After a long year of quarantining, we are finally ready to return to a somewhat normal life, and so are our pups! Hiking with your furry friend is a great way to breathe fresh air, enjoy quality time with your dog, and move both of your bodies. Here are some of the best pet-friendly hiking trails in both Colorado and Wyoming so that you and your dog can enjoy your scenic hikes, with peace of mind that both of you can enjoy!
Red Rocks Trail at Red Rocks Park
Red Rocks is a beautiful music venue that doubles as a great hiking spot. While at night it transforms into one of the best concert locations in Colorado, during the day it is just as amazing. The space is very pet-friendly and offers a variety of different trails and paths for a wide range of athletic capabilities and levels. You and your pup will never get bored! The Red Rocks Trails do require pets to be leashed, but with the superb views, it is not a trail to skip!
Green Mountain Trail
Speaking of spectacular views, Green Mountain Trail outside of Boulder, Colorado is another great pet-friendly hiking trail to try. It is an intermediate trail, so prepare to work hard for the views, but if you and your pup are ready for a challenge this is a great option. Boulder also offers dog parks that you can check out either before or after your hike if you need a little warm-up or tire the pup out a little bit more!
Bear Creek Trail
Bear Creek Trail in Lair O' the Bear Park in Colorado is another on-leash hiking option. There is no shortage of paths that will have you and your dog adventuring for hours on end. Along with the beautiful scenery, there is also a calm creek that is sure to pique your dog's interest and cool them off in the hot summer heat. Bring a lunch or snack, and enjoy it at picnic tables available around the vicinity!
Bridger Peak
The Bridger Peak trail is a long 8-mile hike that ends at the summit of Bridger Peak, the highest peak on the Wyoming side of the Sierra Madre range. It also offers incredible views above the timberline. If you and your pup are ready to tire yourselves out, this is the hike for you!
Huston Park Wilderness
The Huston Park Wilderness Trail is great if you are looking for a quiet and peaceful hike. It is a long trail, but there are plenty of options to choose your own adventure. It is perfect if you are looking for a full-day hike or just a quick hour-long stroll! It is recommended to keep your dog leashed in this space.
There are tons of dog-friendly hiking trails to choose from, and hopefully, these recommendations help you find a new adventure that you and your pup can enjoy! Have fun, bring extra water, good music, and sunscreen! Have a pawfect hike!
Contact Us for Your Dog Grooming Needs